Section 2.

Now that you have completed Section 1, you are ready for the next big step. In this section you will focus on preparing to be successful in High School.
Module 1

Pathway Review:

Reflecting on your past is a strong tool for building your future. This module will guide you through reflecting upon your Section 1 work and prepare you for the next step.

Click here

to start this module.

Module 2

Goal Setting:

Creating goals and planning how to achieve those goals is an important step in achieving success. In this unit, you will learn about SMART Goals and how to write them.

Click here

to start this module.

Module 3

Exploring Your Strengths:

Knowing and understanding your Strengths and Blindspots will help you to make and more efficient decisions about your future.

Click here

to start this module.
---
​Module 4

Career Exploration: Understanding the difference between a job and a career is important. Understanding how to plan for a career based on your personality, interests and passions is a key to your happiness and success? Click here to start this module .

Module 5

Tying Education to Career :

Coming soon

Module 6

Financial Literacy:

Understanding how finances (money) works in regards to income and expenses is an important skill in society. This lesson will begin to teach the basics of personal finances and tie in how grades and income level are related.

Click here

to start this module.
---
| | | |
| --- | --- | --- |
| Module 7 | ​Module 8 | Resources |
Graduation Requirements:

"If you don't know where you are going, you'll end up someplace else." Understanding your graduation requirements is critical to planning your future classes and graduating.

Click here

to start this module.

Success Pathway Review

Coming soon
Powered by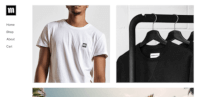 Create your own unique website with customizable templates.